Welcome to
Arcadia Children's Day Care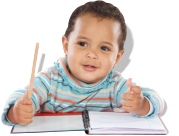 At Arcadia Children's Daycare, Toddlers and Pre-school children grow and learn in a welcoming and nurturing setting.
Our classrooms are filled with talented and caring staff members who are dedicated to getting to know your child and nurturing their cognitive, social and emotional growth.
We invite you to be a part of your child's vibrant classroom experience and share in our school trips and community events.
We accept private payments, HRA and ACD/ACS vouchers. Preschool for 4 year olds is free, under the 'Preschool for All' program of NYC Department of Education.